Family in Doorway (v. sq+) August 1959, Central Mexico The adult women seem preoccupied with thoughts beyond where they are, while the children seem to be present. The gun was not noticed at the time of exposure and not until the first print was made in 1998. The composition is reminiscent of Paul Strand.





Women and Men Near Market (sq) September, 10, 1959, San Miguel de Allende, Guanajuato This was the only one of several frames of this subject where all the figures seemed to form a compositional unity. I was pleased with this early success at working with a group of people, and catching them unaware of me as well. The Rolleiflex is as quiet as a Leica and unobtrusive at hip level. Raising a 35 mm camera to the eye does not work for me. This is a strong image for me in the way it shows the different worlds of men and women, and though not really sharp, reveals a wealth of texture and tone.





Boy With Head in Hands. (sq) August 1959, San Miguel de Allende, Guanajuato The directness of the boys emotion-filled gaze never fails to arrest my attention. How did I make this picture? My custom was to expose a single frame and then look for another subject. This was the last of a twelve-frame roll. What was he thinking? His expression registers more than idle curiosity and there is no fear. What would I say to him now? Would we be any closer together? Is he still alive? When Reva Brooks first saw the contact sheet, she immediately suggested a tight head-and-shoulder crop and I printed it several times over the years that way. However, in 1998 I went with virtually the whole frame, trusting that the strong portrait could easily stand up to the busy background and indeed, would find its appropriate context there.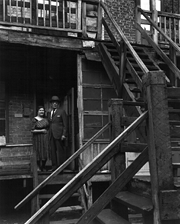 Couple, Balcony and Stairs (v), 1963, Montreal, East End My original project was to photograph walls and occasionally someone would appear n sometimes yelling at me to get out, and at other times agreeing or even asking to be included in the picture, thus instantly changing it into a portrait with the architecture taking a supporting role. I do not recall ever making a print of this negative. Today, this is a shocking admission: how could I have overlooked such a powerful human statement? How I would love to give them a print, but alas, they and their home are long since gone.





Balcony, Linoleum and Ladder March 31, 1963, Montreal, East end Time and the result of ingenuity and living have long ago altered what was once a perfect architectural grid. The regular rhythm of bricks and mortar has been softened by layers of grey paint and the various additions of linoleum and other materials make the original crisp intention of the structure recede behind a facade of human expression. This small fragment of mid 20th century residential housing speaks in a poignant language difficult to interpret and raises questions we know not how to answer.





Rock, Pebbles and Shadows September 8, 1968, Point Lobos, California How Edward Weston must have thrilled to discover such a magical place (five decades before I did), that so seductively tempts the photographer with black and white film near by! When I set out to visit this place from far away Montreal, it was the Daybooks and their reproductions that drew me. I had no thought of doing anything original in such a storied setting: I simply wanted a piece of it for myself. What I learned much later was that, even with E.W. etched on my brain and living in my heart, I could do nothing other than make a picture of my own. This image has always seemed "difficult" to me - slightly off-balance and ominous, even psychological in a way that Weston never would have done.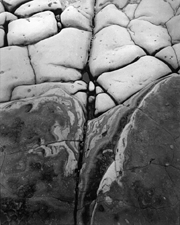 White and Grey Rock September 1, 1968, Point Lobos, California Point Lobos was the richest source of subject matter of any place Ive ever visited. It was so exciting the challenge became: have faith that the thing staring you in the face is the best thing to work on at the moment. What prompted me to select this subject matter may have been just the texture, tone and line. But, thats all academic now, because this composition of radiating lines has provided the basis for a variety of responses, depending upon the viewer.
*COPYRIGHT NOTIFICATION* All contents of articles and images appearing anywhere on this website are protected by International copyright law and may not be retrieved, employed or redistributed in any form without written consent from the artist.

*NEWS FLASH* Jeremy Taylor's book, Intersection: Toronto and the Poetics of Urban Space is hot off the press and available for immediate purchase, directly from the artist! At $75.00 this is a wonderful opportunity to acquire a very special first edition collector's item, of rare value. The book is hard-bound, 12 inches square and contains 43 beautifully reproduced tri-tone plates, with a foreward by Gary Michael Dault. The edition is limited to only 350 copies and each copy is signed and numbered by the artist. Contact Jeremy Taylor by telephone at: 416-467-6460 or by e-mail: jeremyta@sympatico.ca


---
click the images to view an enlargement.
---

Your photography is a record of your living,
for anyone who really sees. - Paul Strand

Jeremy Taylor's outstanding abilities in black and white photography have long been respected and sought after by the elite of Canadian contemporary photographers and photo-based artists. In the guild tradition, Taylor has devoted his technique and love of the medium to the craft, skillfully printing his colleagues' negatives. His expertise as a master printer receives international recognition. Now, on the fortieth anniversary of Taylor's introduction to photography it is time to look at his personal explorations as an artist. Working quietly on the sidelines, Jeremy has produced a body of work that makes him the undiscovered jewel of Canadian photography. 1. His images are the result of a life long quest for integrity, structure and meaning. His vision leads him to portray the underlying forms and interrelations of life. A Taylor photograph is an invitation for communion with the image, oneself and the universe.

Past visitors to Keylight will recall last June's feature on Reva Brooks. Taylor produced the modern edition prints of the images for her June '98 Toronto exhibit at the Stephen Bulger Gallery. This completed a circle of events begun thirty-nine years earlier in San Miguel de Allende, Mexico. The serendipitous events are compelling. More significantly, they indicate the sense of interconnection Jeremy's works probe.

Born March 11, 1938 to artist parents his sensitivity was always apparent. At the age of three he was an eager model for his father, respected Canadian artist Frederick Taylor. When he looks into the eyes of these childhood portraits he can remember the intensity he felt sitting perfectly still, anxious to please his exacting father. Today, Jeremy credits his ability for deep meditation to this early training. His teen years set him adrift. Always sensitive, the family break up when he was twelve augmented his alienation. At fifteen he was diagnosed as a manic-depressive. Left to his own devices he sought repair in the lawless chaos of Montreal's jazz clubs. To the aspiring young drummer, with the beat of Gene Krupa in his heart, jazz seemed the answer. It was creative, all accepting, and exciting. At The Black Bottom, a major Montreal jazz club in the late Î50s and Î60s, it was possible the communist dreams he had heard his parents preach could be a reality; yet the actuality was a subculture, subversive and soul destroying, for his young sensibilities. Unable to complete high school and sensing a dead end to his talents in the jazz world, he took up the invitation from his father to come to San Miguel for a visit. In an attempt to encourage his son in new directions his father sent him the calendar of art courses offered at The Instituto Allende. Near the end of the list Jeremy found photography. He had seen some intriguing photographs on the back of jazz albums but that was the limit of his previous experience. Today he still ponders the casualness with which he entered his life's preoccupation.

In May 1959, shortly after his arrival in San Miguel, he was introduced to his father's friends the Brooks; he and Reva began life changing discussions about his aspirations to study photography. Jeremy purchased Reva's old Rolleiflex and she mentored him in his beginning efforts. His aptitude was immediately recognized and The Instituto granted him a scholarship to further his study. He remained in San Miguel for the rest of the year. The Mexican series is from these beginning months; ironically the negatives were never made into fine art prints until he was reminded of them and his former mentor in the fall of '97 when asked to make prints for Reva Brooks Toronto exhibit.

We see Jeremy's keen eye and compassionate presence in these earliest works from the days of his introduction to photography in Mexico. Unassuming and self effacing he was an unobtrusive presence, able to move in close recording the drama of human reality. In the young Mexican Boy, head in hands the intense communion between the photographer and his subject envelopes the viewer with both a physical and emotional impact: how we all struggle to understand each other and our circumstances. That Taylor moves so unnoticed among Mexico's citizens strengthens the candidness of his images. We all share a common emotional centre as witnessed in Family Group In Doorway. Jeremy, at twenty-one, recognized this truth and preserved it for our reflection. This innate intuitive perception has continued to be his gift as an artist. 3.

When he returned to his native Montreal, in the fall of 59, Jeremy looked at the city with fresh vision. His upbringing posed many questions. His paternal grand parents enjoyed an upper middle class lifestyle and encouraged their sons to achieve in like manner. Jeremy's father was a graduate architect; his older brother was Canadian industrialist E. P. Taylor. However, Fred Taylor never practiced architecture; instead he and his new wife (a first cousin) went to England to study art. Upon their return to Canada they resolved to get away from their parents middle class, conservative lifestyle and chose to settle in Montreal, at the time a centre of artistic and leftist ferment. Jeremy felt reactive to the contradictions and alienation of his formative years. In 1960 the young adult constructed his idealism through the camera lens.

My primary influence comes from my parent's idealism, middle class upbringing and freedom from violence or financial struggle. I was imbued with their communist principles of equality and sharing of Resources, and, of course, their appreciation and practice of classic artistic values. JEREMY TAYLOR

Modern art burst upon the twentieth century with a flourish of utopian dreams. One of the movements with particularly idealistic goals was Russian Constructivism. It has been described as the "Socialism of Vision"4. "Before Stalin there was one moment in Russia when advanced art served the power of the Left not only freely but in the highest spirit of optimism and with brilliant, if short-lived, results. It happened between 1917 and 1925, when the promise of communism was new and the newness of art fused with it." 5." They were imagining a perfect state of explicitness, in which things and the relationships between them were made clear to human sight as theologians supposed they were to God, a millennium of consciousness, which art had the enormous responsibility of bringing about." 6 The aesthetic leaders of the October Revolution created an art of expectation for a future of equality and organized energy in which the arts would act as a transformer. 7. Mayakovsky-Rodchenko believed "the best medium for achieving this aim was, of course, photography photography was instant socialism: it was cheap, real, and its images could be indefinitely repeated, copied, and distributed. Photography, Rodchenko argued, would supply the real monuments of the future." 8.

Did the young Jeremy absorb the essence of these dreams as he listened to his parents and their friends animated conversations about art and politics? As one examines his body of work the parallels with constructivism and its vision of arts ability to illuminate social problems seems key to a full appreciation of Taylor's meaning.

Roaming the streets of Montreal, with his 8x10 view camera, Taylor discovered the beauty of a big city as a work of art in itself, with the promise of greater freedom and an understanding for his sensibilities. Each artist's vision is influenced by the history of art that precedes. In Jeremy's architectural images from the Montreal Walls series there is strong affinity with Piet Mondrian. "One cannot read Mondrian's writings without becoming aware of his desire to integrate in a utopian spirit his theory of art with the whole of social life and the promise of a more general emancipation through an advancing modernity." 9. When one perceives the visual link with Mondrian in Taylor's works, it is a short leap to accept the conceptual link and applaud the message as we move out of this millennium. Within the carefully constructed parameters of his rectangular canvases Mondrian revealed how the classical ideal of unity could be achieved in asymmetric and open relationships. The Impressionists and Cubists had distinguished looking at asymmetry and openness of the whole, while witnessing day to day human activity, as a new aesthetic - a way significant of a changing outlook in norms of knowledge, freedom and selfhood. 10. Consider the parallels between Mondrian's Broadway Boogie Woogie and Taylor's Balcony, Linoleum, Ladder. In the former, Mondrian creates a random play of small units within the symmetry of the large as a stabilizing force. There is affinity with this organization in the architectural, textural and pattern elements of Taylor's work. Just like Mondrian the photographer senses a control in the opposition of the regular and the random and shows a respect for variation, balance and interest. The metaphor for a societal utopia is apparent. The benefit to humanity such an ideal could achieve is evident in the Couple on Back Porch: Montreal Streets series. The pair, dressed with pride, stands confidently posed on their tenement steps. Taylor's work from this period garnered encouraging recognition. In 1966 he presented his portfolio to Lorraine Monk at the National Film Board Stills Division in Ottawa. She made a large purchase of negatives and prints for the board's permanent collection and then published images in the books: Canada / A year of the Land and Call them Canadians. Works were included in Montreal's Expo 67 exhibit and he had his first solo exhibition at the Loyola Bonsecours Gallery in Montreal organized by the NFB.

Taylor's quest for spiritual growth has taken him along many and varied paths. After his marriage in 1968, he and his wife, Illona Susgin, travelled in their Volkswagen van to photograph in the southern United States. He met Ansel Adams, Wynn Bullock and Brett Weston. The meeting with the younger Weston reinforced Jeremy's admiration for Edward Weston's sense of form and composition; Taylor was favoured by a visit to the Weston home, introduced to original Weston prints and enjoyed photographic discussions with Brett Weston. These conversations took Taylor into new directions. He was so impressed with Bretts contact prints done in New York city in the 1940s that he went right out and purchased his own Deardorff 11x14 view camera in San Francisco. During this trip, Taylor was also fortunate to study with Ansel Adams at a workshop conducted in Yosemite Valley, California. On a spiritual level, he rediscovered yoga, after his initial introduction in 1964 with Swami Vishnudevananda, and permanently switched to a vegetarian diet. A profound respect for truths inherent in natural forms and structures is evident in the works from this trip. Consider Rock, Pebbles and Shadows taken at Point Lobos, California. There are so many levels of seeing for entry into this work and contemplation of divine creation. This work and others in the series illustrate the photographer's sense that the joy of the journey is derived from a love for the questions it stirs. The images from this period offer no answers. Rather, they are visual manifestations of questions - questions we all ponder. Jeremy's photographs confirm Edward Weston's hypothesis: "maybe only a fragment, but indicating or symbolizing life rhythms." 11. Significant for a full appreciation of Taylor's artistic expression is remembering that these are the works of a master printer editing his own negatives. Accented details and lighting effects are the conscious choice of the man who first viewed the image in his lens. There is no intermediary in the technical expertise. Evidence of the influences of Weston and his mentor, Stieglitz, is strongest in Gypsum Sand and Mountain Range, White Sands National Monument in New Mexico or White and Grey Rock, Point Lobos, California. If one accepts nature as the standard of supreme good and beauty, then within nature can be found spiritual Equivalents, as Sieglitz termed them. Gypsum Sand and Mountain Range speaks to the cyclic, but also to harmony, peace and eternity.


continue reading our feature article.