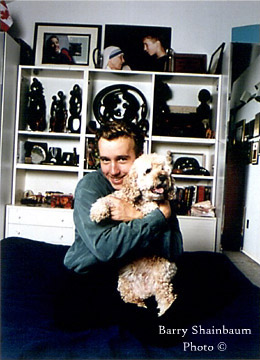 Author and child labour activist Craig Kielburger is head of "Free the Children", an organization whose aim is to spread awareness and pass legislation against the exploitation of children throughout the world.





World renowned psychic and author Uri Geller teaches that his abilities are not exclusive and as we learn to believe in ourselves, we too can tap into the ninety percent of the brain that is seldom used.





Barry Shainbaum, Photographer. Photograph by Brenna Hutchings.
[5]


*COPYRIGHT NOTIFICATION* All contents of articles and images appearing anywhere on this website are protected by international copyright law and may not be retrieved, employed or redistributed in any form without written consent from Keylight Communications and the respective artist(s).



***


I don't have my illness anymore. It left me in 1988. The conventional wisdom from the majority of medical doctors is that you'll always be sick, but my take on it is a little different. Many doctors just see you as one-sided - you're only a body; you're flesh and blood, and if you put needles and medication in it, you can help, and a lot of them believe in psychotherapy too. But if you look at the human being as a combined mind, body and soul; that when you work on one part, it seeps through to the others as well...I really believe that if you heal yourself emotionally and spiritually, and you start to change the way you are and how your react over time (nothing happens overnight), at some point it will work into the physical.

We all understand that if someone is overweight, and they eat less and exercise more, at some point you'll see the physical change. And if someone has a very bad temper, we understand that they take anger management classes and at some point they'll be less angry. Now let's take someone who has some sort of mental illness. Through intentional therapy over the years they start to understand different things and come to a new path - whatever, just learning about themselves and how they cope. Maybe in time, because they become more at peace emotionally; maybe by a leap of faith, their mental illness may become less entrenched. In my case, because I was in therapy for so many years and learned so much, I changed and at some point, those conditions that harbored the illness in me weren't there any more and it was gone. I knew it. They just absolutely weren't there anymore and I just knew it. But as I've said in some of my talks to people who are ill, that does not mean you should just go off your medication; you're cured. Whatever you do, you have to keep in touch with your medical professional, but at the same time you should know your own mind and learn about yourself, have faith and believe in a greater power, and believe that you have no limits.

Thinking back on the time that I finally got out of the boarding house, three things helped me get going: Persistence - I never gave up. The second was visualization, and thirdly, it's having faith, even though you don't know how you're going to get there. Visualization is not dreaming. Dreaming is wishful thinking. Visualization is seeing inside your mind's eye that which you wish to attain, and telling yourself, "It's out there and I'm going to achieve it", even though you don't know how. Visualization is a two-step process. If you just visualize and don't take concrete action, it's like daydreaming and it will not work. What I learned from my research is, when you visualize, there are no limits to what you can achieve, and you're telling your subconscious mind that what you want is already here. Then, you must start to take steps. It doesn't matter how small they are but you must begin to move forward. I had support of family and friends but you know, I had to do it myself.

What made a difference the second time around was my conscious awareness. When I was at Ryerson, in our first year, we had to do a project of environmental portraits - portraits on location. So all of us would go outside, and I'd walk around downtown. I'd walk into stores and just introduce myself and ask to take their picture, and of the whole class, I seemed to have one of the best contact sheets. I just had a natural flair for meeting with people and I got some nice shots. We also photographed everyone in our class and we had a lot of humour and stuff, and I just seemed to have a flair for it. The difference now is that, as opposed to just doing it, I have a new understanding of my actions behind what I'm doing and that's made a huge difference.

45 of the 47 confirmed people I profiled in the book allowed me to do a private shoot and a private interview. They range from ten minutes to one hour and 20 minutes. The two that I couldn't get a private shoot and interview with were Nelson Mandela and, ironically, Billy Graham. Mr. Graham's people would not authorize a private shoot but they gave me accreditation so that I was the only Jewish fellow (I think) at a crusade in Tampa and it was a wonderful experience. I had to use my telephoto lens and got some nice shots of him. The time I photographed Nelson Mandela was during his visit to Canada two and a half years ago. Then, I also had accreditation, so I drove to Ottawa, photographed him at a monument with his wife and after that, he spoke in the House of Commons. When he was in Chrétien's office, a few of us photographers were allowed in bit by bit and we were told, "No flash, if anyone uses a flash you'll be thrown out of there". The reason being, all those years in solitary had really affected Mandela's eyes. So I was very close and I walked up to him and said, "Welcome to Canada!" and he said, "Thank-you very much." He's a very distinguished looking man with a very sharp wit and with a young, cherubic looking face but when he talks, you know he knows his mind and you don't mess around with Nelson Mandela. I was honoured to be there for his talk and then, when he was back in Toronto the next day at the Skydome, I photographed him again, and all the way through the tribute to him.

Uri Geller offered to write the foreword when I was originally photographing him and I was so pleased.

So what's next?

We've filmed a mini-pilot, also called Hope and Heroes - Portraits of Integrity. It's based on a lot of the people in the book, with other added profiles. An associate has taken the pilot to a conference in France. It will be a half hour show that's just as inspirational as the book, and will include some excerpts of myself talking to people and perhaps some video footage, along with personal interviews.

The Chinese have a saying, "A journey of 1000 miles begins with the first step", and each participant in the book is living proof that no matter how small a beginning, anything can be accomplished.



***


Hope and Heroes - Portraits of Integrity will be published in October, 2001 by London Street Press and distributed across Canada by Hushion House Publishing, and in the United States by General Distribution Services.

Visit Barry Shainbaum online, at www.barryshainbaum.com.